"a deserved buzz surrounding Starcrawler" -LA Weekly
"70s-style guitars blazing" -Under the Radar
"propulsive" -Consequence

Today, Starcrawler releases their long-awaited major label debut, She Said, out now on Big Machine listen HERE. The thrilling 5-piece, Los Angeles rock'n'roll collective are as raw and hungry as ever, but refined, refreshed and ready to take on the world. Watch the lyric video for their latest track "Thursday" from the new album HERE.

Following a summer of performing on stages around the world with the likes of My Chemical Romance, Jack White, The Smile and Nick Cave, Starcrawler will embark on an extensive fall U.S. tour kicking off in their own backyard at LA's famed Troubadour tonight. They'll also play a special album release show in New York City on September 20th at Baby's All Right, with the rest of the tour dates hitting major markets including San Francisco, Denver, Seattle, Chicago, Philadelphia, Atlanta and more (see below for full itinerary).

Starcrawler are also playing the DMZ Peace Train festival in South Korea along the DMZ borderline with North Korea on October 1st. Their mission statement says, "Through music, let's transcend politics, economy, ideology, and experience freedom and peace. Peace Train hopes that through culture, we can continue to rediscover the things in our lives to which we become indifferent and numb, and to pass on values such as freedom, peace, human rights, and tolerance to future generations."

Starcrawler consists of striking frontwoman Arrow de Wilde, guitarist Henri Cash and brother Bill Cash on pedal steel/guitar, drummer Seth Carolina, and bassist Tim Franco. She Said was produced by industry titan Tyler Bates, who met the band when they worked together on a stand-alone single for DC's Dark Nights: Death Metal soundtrack. Bates and Starcrawler set up shop in Sunset Sound's iconic Studio 2 – "the Van Halen room" as Henri Cash proudly points out–to create a full and ferocious sound brimming with fresh energy. Highlights of the new album include the urgent, L7-ish "Roadkill,", the Nirvana-gone-country twang of "Stranded,", the dreamy girl-group stylings of , the powerfully personal "Runaway" and the irresistible title track, "She Said.". The timeless tunes are at once ultra-modern but steeped in vintage songwriting with hints of 90's influences reminiscent of Hole and The Breeders.

In speaking about the new record Henri explains, "We wanted to make songs for everyone. For people that weren't just into punk rock." Lockdown meant Starcrawler had to come up with a new way of writing. "Henri would come to my window and play me demos," explains Arrow of the Romeo and Juliet meets Say Anything set-up the band turned to in 2020. With She Said, they were able to take their time, honing their songwriting following a non-stop whirlwind of touring. The pandemic meant they were finally free to focus. "We'd never really had time to be in one place," Henri adds, "and then everything just hit at once and all of that build-up is what came out."

In addition to their own sonic evolution, other ventures have included collaborations with rock legends like Tom Petty and the Heartbreakers' guitarist Mike Campbell, as well as the late, great Taylor Hawkins and Perry Farrell. Arrow has made notable cameos in videos from the likes of Father John Misty and Florence and the Machine. Dave Grohl interviewed Starcrawler for his documentary "What Drives Us," a star-studded rock doc on the life of touring bands, and how slogging it on the road. "We were telling him how hard it was and how much we wanted to upgrade from a van and tour in a bus," explains guitarist Henri. "Then, off-camera, Dave said 'well, you gotta write a hit then!' That really stuck with us." Starcrawler's music can also be heard in unexpected places, most recently as the backdrop for a Nissan commercial and over the opening credits of the Jackass 4.5 series on Netflix.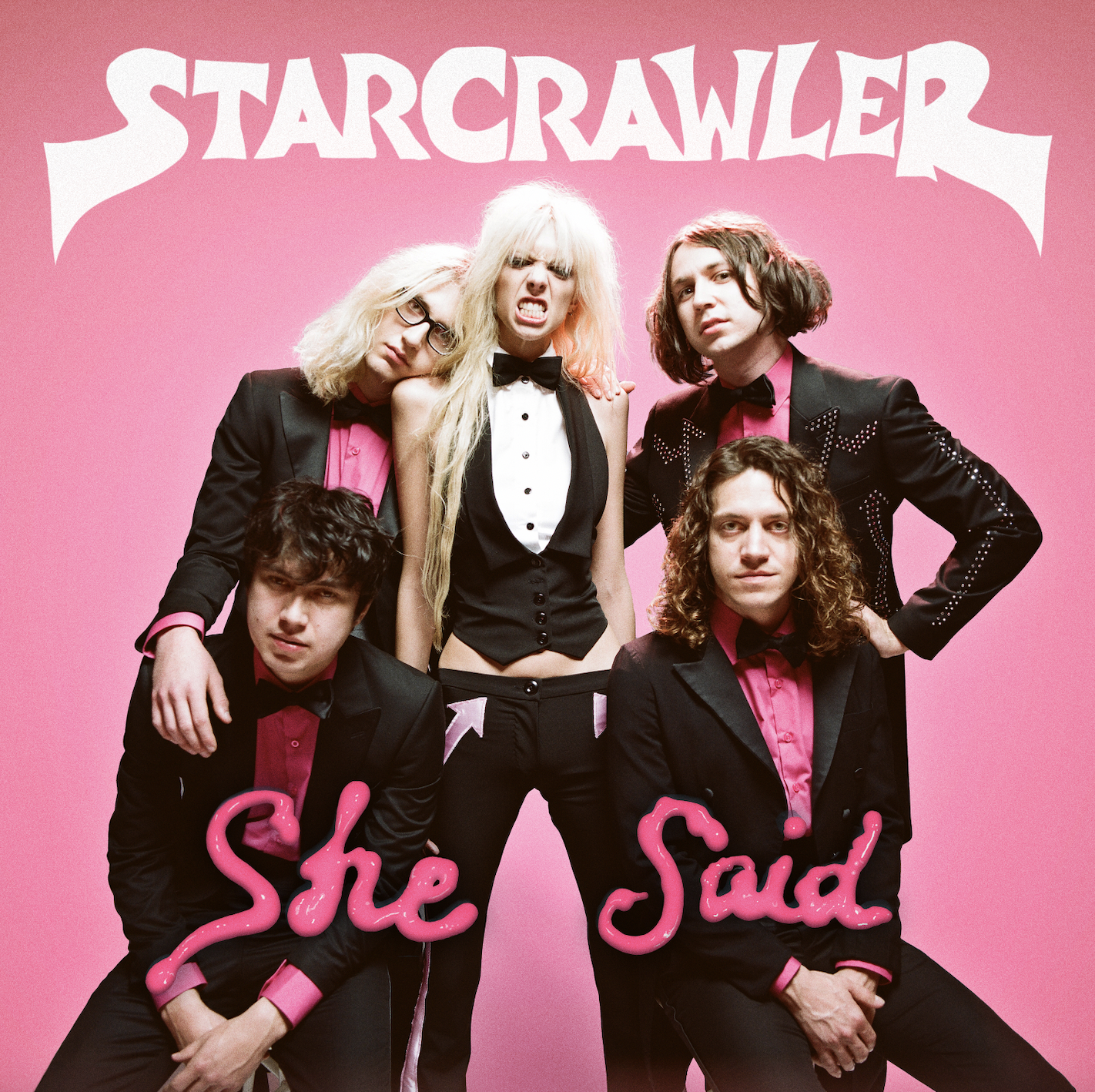 Starcrawler Tour Dates:
| | | |
| --- | --- | --- |
| September 16 | Los Angeges, CA | Troubadour |
| September 20 | Brooklyn, NY | Baby's All Righ |
| September 24 | San Diego, CA | Adams Avenue Street Fair |
| October 1 | South Korea | DMZ Peace Train Festival |
| October 7 | San Francisco, CA | Rickshaw Stop |
| October 8 | Fresno, CA | Strummer's |
| October 10 | Salt Lake City, UT | Kilby Court |
| October 11 | Denver, CO | Larimer Lounge |
| October 13 | Tucson, AZ | 191 Toole |
| October 18 | Santa Ana, CA | Constellation Room |
| October 19 | Santa Barbara, CA | SoHo Music Club |
| October 20 | San Luis Obispo, CA | SLO Brew |
| October 21 | TBA | TBA |
| October 22 | Sacramento, CA | Starlet Room |
| October 24 | Portland, OR | Doug Fir Lounge |
| October 25 | Seattle, WA | High Dive |
| October 26 | Vancouver, BC | Biltmore Cabaret |
| October 28 | Edmonton, AB | Foundry Room |
| October 29 | Edmonton, AB | Foundry Room |
| November 1 | Madison, WI | High Noon Saloon |
| November 2 | Chicago, IL | Schubas |
| November 4 | Toronto, ON | Adelaide Hall |
| November 5 | Syracuse, NY | The Lost Horizon |
| November 6 | Burlington, VT | Higher Ground |
| November 7 | Boston, MA | Brighton Music Hall |
| November 8 | Philly, PA | Underground Arts |
| November 10 | Baltimore, MD | Metro Gallery |
| November 11 | Durham, NC | The Pinhook |
| November 12 | Charlotte, NC | Snug Harbor |
| November 13 | TBA | TBA |
| November 14 | Atlanta, GA | Vinyl |
| November 16 | Austin, TX | The Parish |
| November 17 | Houston, TX | Black Magic Social Club |
| November 18 | Dallas, TX | Club Dada |
| November 19 | Oklahoma City, OK | Tower Theatre |
| November 20 | Tulsa, OK | The Vanguard |
For more on Starcrawler visit: FB / IG / TW / YT / TikTok / Website